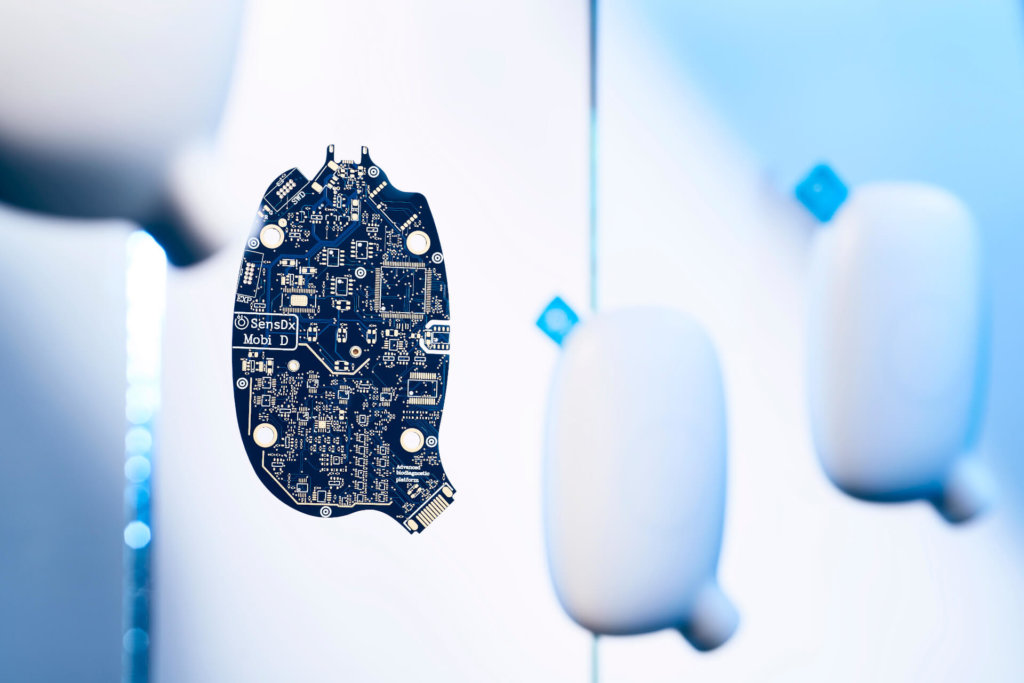 Our reader, Mobi SensDx,  provides diagnostics technology based on ultrasensitive microsensors modified with biological particles. The particles found on the surface of the microsensor are carefully selected by our biotech team to fit specific bacterium or virus. During the assay, presence of pathogen on microsensor is measured through electrochemical impedance spectroscopy.  This enables SensDx App to clearly identify the bacterium or virus causing an infection.
Our technology facilitates pathogen detection at a very early stage of infection, which allows for a fast response of the physician, selection of the right treatment allows to avoid the use of antibiotics if a viral infection is detected. Moreover, with our technology it is also possible to detect oncological, DNA and RNA markers.
To operate, the device requires a computer running Microsoft Windows 10. We are working on bringing solutions to mobile devices.
Testing
Testing process is quite simple and takes approximately 5 minutes. The specifics of the process may vary depending on pathogen. Key steps include include:
Nasopharyngeal, oropharyngeal, nose or throat swab,
Mixing of sample with extraction buffer in a sample tube, 
Application of extraction buffer on microsensor,
Measurement
The results are then presented immediately, on-site, within the SensDx App.
Technical Specifications:
Dimensions: 125 x 80 x 25 (mm) 
Connectivity: micro USB
Power: 5V DC, 300mA
Supported OS: Microsoft Windows 10
Supported assays: SensDx microsensor only
Assay time: Approx. 5-7 minutes, depending on pathogen or panel tested